We may receive a portion of sales if you purchase a product through a link in this article at no cost to you, though all opinions are our own. For more information, please read our ethics statement. Please note that pricing and availability are subject to change.
The Nix Mini 2 Color Sensor is a game-changer for anyone who works with color, from design professionals to DIY enthusiasts. This revolutionary pocket-sized sensor can instantly match any surface to an existing color, making it an essential tool for those seeking color inspiration wherever they go. And for a limited time, it's available at a 40% discount from StackSocial.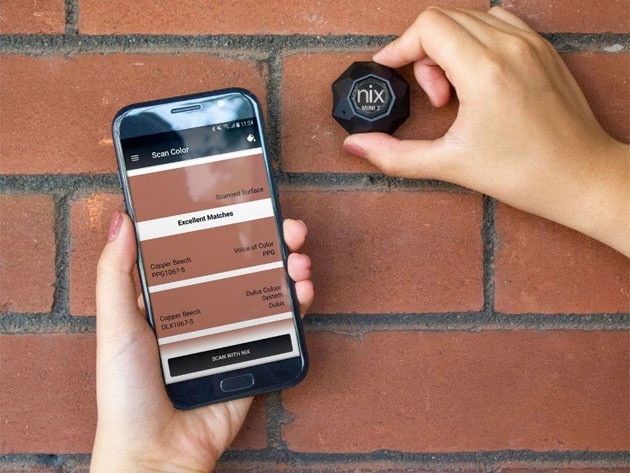 Designed with life in mind, the Nix Mini is sleek, portable, and sophisticated. It can easily identify any color with a simple scan, from painted walls to vinyl, leather, plastic, fabric, and dyes. And with its solid-state technology, it's extremely durable and built to last.
But what sets the Nix Mini apart is its ability to match scans to more than 100,000 brand name paint colors or to sRGB HEX, CMYK, and LAB colors. Browse color matches from leading paint brands like Benjamin Moore, Dulux, Farrow & Ball, and Sherwin Williams, and save and organize your favorite color palettes to Nix apps for future reference.
Pair the Nix Mini with the Nix Digital app to use Photoshop's eyedropper tool in real life, or download the Nix Paints app (available on iOS and Android) to match even more paint colors and build-out projects. And because it's lightweight, portable, and works via Bluetooth, it's perfect for on-the-go color inspiration.
The Nix Mini also blocks out all ambient light and provides its own calibrated light source for accurate readings. And with free lifetime access to the Nix Paints and Nix Digital Android and iOS apps, sharing colors with customers, colleagues, and friends via social media or email has never been easier.
The Nix Mini 2 Color Sensor is a must-have tool for anyone who works with color. It's what design pros, photographers, and DIYers are looking for, and with its advanced technology and user-friendly interface, it's no wonder why.
---
Featured deals from StackSocial
Expires October 03, 2123 07:59 PST Buy now and get 53% off […]

Expires October 03, 2123 07:59 PST Buy now and get 52% off […]

Expires January 01, 2024 07:59 PST Buy now and get 66% off […]

Expires January 01, 2024 05:00 PST Buy now and get 50% off […]

Expires September 30, 2123 07:59 PST Buy now and get 49% off […]

Expires September 26, 2122 23:59 PST Buy now and get 65% off […]

Expires September 28, 2123 07:59 PST Buy now and get 28% off […]

Expires December 27, 2023 07:59 PST Buy now and get 56% off […]

Expires September 28, 2123 07:59 PST Buy now and get 34% off […]

Expires September 28, 2123 07:59 PST Buy now and get 32% off […]

Expires September 26, 2024 06:59 PST Buy now and get 32% off […]

Expires September 27, 2123 07:59 PST Buy now and get 61% off […]

Expires September 26, 2123 07:59 PST Buy now and get 74% off […]

Expires December 25, 2023 07:59 PST Buy now and get 61% off […]

Expires September 23, 2123 07:59 PST Buy now and get 90% off […]

Expires September 22, 2123 07:59 PST Buy now and get 88% off […]

Expires September 21, 2123 07:59 PST Buy now and get 93% off […]

Expires September 21, 2123 07:59 PST Buy now and get 33% off […]

Expires September 20, 2123 07:59 PST Buy now and get 5% off […]

Expires September 20, 2123 07:59 PST Buy now and get 30% off […]
---
Powered by